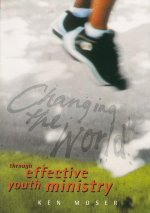 This year, our youth leadership team were given Ken Moser's book
Changing the World (through effective youth ministry)
to read and discuss. The discuss part hasn't happened yet, but the reading has - and Moser has certainly changed my world in regard to youthwork thinking.
Moser's thesis is simple. Youth ministry is ministry to young people - not a babysitting service for parents, nor a place for young people to go to, but actual ministry to young people. Ministry is 'the act of serving people by bringing them the good news of the life, death, and resurrection of Jesus Christ.' (p. 4)
So many groups can major on fun and entertainment, while minimizing or neglecting altogether any Christian content - perhaps a two minute epilogue thought for the week. Moser calls us to actually do youth ministry, by making discipleship the main focus of our group (having fun as we do it), so that we equip our young Christians to be evangelists alongside the leaders, and others are drawn in to the central purpose of the group. 'We are often a life saving club that is more committed to fun than saving lives... we are desperate to save the world but spend all our time entertaining it.'
This book has been the basis of what we're trying to do in St E's, but I wish I had known about the book all those years ago when I was starting out in leading SNYF (Sunday Night Youth Fellowship) in Dromore. It's so obvious, and yet it's only when it is set out in front of you that you realise what you were doing wrong.
Moser has a wide experience of leading big and small youth groups, and continually peppers the book with funny illustrations, examples and hot tips for others to use in their youth ministry.
Towards the end of the book, there's this great summary of all that has gone before, and is the reason why church youth leaders should be reading this book:
'We are not social workers hoping to give young people meaning through an active social life. We are leaders committed to Christ trying to bring life to a dead world.' (p. 124) - including our non-Christian young people.
An excellent book, either for personal development of youth leaders, or even more effective as a basis for discussion among a team of youth leaders. Get it now, and meet your leaders over the summer to talk this through before the new year of youth activities kicks in at the end of the summer.