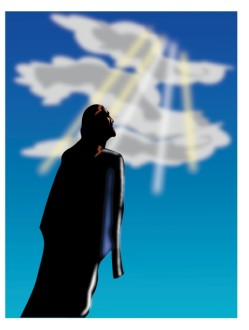 It may be a question on lots of lips, for lots of different reasons. If only we could see him, then we could believe. Has he abandoned us? Is he coming back? How does he put his time in?
Today, the Ascension Day, helps us to answer some of those questions. In previous years I've written about the disciples
looking intently up
:
Firstly, it means that we have a job to do. The angels came along to ask the disciples why they remained standing where they were, looking intently up into the sky, as if wanting to see Jesus again. their question is more a rebuke though - as if the disciples would gain anything by looking up at the sky every day for the rest of their lives. Rather, the disciples had a job to do; they were to wait in the city for the gift the Father promised; then with the power they would receive when the Holy Spirit came on them, they would witness to the resurrection in Jerusalem, Judea, Samaria, and to the ends of the earth.
I've also thought about the
essential ascension
, and commend that post in its entirety for your consideration. Here's a taster:
5.

The ascension is the triumph of Jesus.

In the place of authority, Jesus reigns over not just the church, but also all of creation. Jesus '

has gone into heaven and is at the right hand of God, with angels, authorities, and powers having been subjected to him.

' (1 Peter 3:22) Jesus has authority over all angels, people, kingdoms and places. There is no part of the universe of which Christ does not say "It is mine!"
The ascension is an important part of our faith, and reminds us that, although we don't see Jesus now, one day we will, and we will be like him. His work, triumph, and intercession all guarantee it!