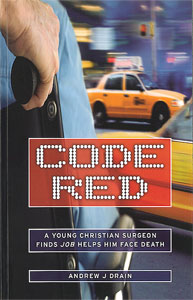 This may not have been one of the longer books I read this year, but it will certainly stay with me for a long time. Andrew J Drain, a fit cardiothoracic surgeon, flying high in his career, very suddenly had a complete reversal, and became a patient, with the most serious form of leukaemia. This book is the account of his life, his suffering, and his reflections, as well as a series of sermons he preached on another sufferer from the book of Job.
Published by Christian Medical Fellowship (CMF), this book was a must-read for me for many reasons - I'm a preacher, so I want to read other's sermons in order to improve my own preaching; I'm a pastor, so I want to learn how to better pastor those who are suffering; I'm married to a doctor, so I want to better appreciate those serious medical situations and their effect on patients and staff; I'm a human, and one day I too will be facing my death, and I want to die well.
This is a compelling account, with many deeply personal and moving reflections as Andy tells his own story, written in the months leading up to his death. He knows he is going to die soon, and yet there's a strong confidence in the face of death, because he is trusting the Lord Jesus for his salvation. It's not the position of many in our world, because 'we live in a youth-orientated, health-worshipping, death-denying society.'
It's not all tears though, as Andy's humour and wonderful sense of irony comes through - particularly in describing the incident which gives the book its title. There were moments to smile as well, as he reflected on his school days and some of the things that happened during medical school in Belfast.
The sermons, preached as a sufferer, are particularly helpful, and don't settle for the easy answers but closely follow and explain the text, always pointing beyond Andy and Job towards the ultimate sufferer, the Lord Jesus, crucified for us.
This book is to be highly recommended, and would be suitable for medical staff (with lots of thoughts on the transition from doctor to patient, and the insights gained from the role reversal), as well as anyone preparing to face a longterm terminal illness, and those seeking to help pastor them. As the foreword (by Steve Midgley) reminds us, though, 'The Bible's teaching about suffering is like prophylactic medicine - best administered in advance.' Pointing to the hope of the gospel in the midst of despair, this is just what the doctor ordered.